Father's Day is upon us and what better way to relate to dear ol' Dad than with comic books? Or maybe all you hip, young Papas out there are looking from some reading recommendations while you wait for the accolades that accompany fatherhood. That's a thing that happens, right?
Look, we don't know. We're all childless 30 and 40-somethings here at Grawlix. All we know we learned from comic books. If the list we have compiled here is any indication, though, fatherhood seems like a few small moments of cuteness surrounded by a sea of terror.
Joking aside (though there is likely more truth to that last bit than we know), we understand the importance and impact the role of a father plays in nearly everyone's life. Whether it be a biological father, step-dad, a "father figure" or the lack of one. We also understand that everyone is human and, whether from the role of a child or a parent, human relationships are complicated things. Sometimes wonderful, sometimes frustrating.
In celebration of Dad-ness we've compiled this list of comics that we feel explore fatherhood in real, impactful ways. Like actual father-child relationships some of these stories are heartwarming. Some are heart-wrenching. Most are both.
Whoa. This got a little heavier than you were expecting, huh? That's what happens when the host whose father has passed pens the Father's Day post. It's going to get real. What did you think this was going to be? A cynical, vapid excuse to cash in on a Hallmark holiday with a post consisting primarily of affiliate links?
Disclosure: This page contains affiliate links. If you click through and make a purchase we may earn a commission at no additional cost to you.
"When the Rooks family moves to the remote town of Litchfield, NH to escape a haunting trauma, they're hopeful about starting over. But something evil is waiting for them in the woods just beyond town. Watching from the trees. Ancient…and hungry."
This book is basically Scott Snyder's fatherhood fears materialized and distilled into a pure, liquid form. Then that liquid was mixed into the ink that Jock and Matt Hollingsworth used to art this thing up.
The story is all about the parenthood fear of unintentionally harming your own child. And the guilt when you do. And even worse guilt when you question if it WAS unintentional. As horribly depressing as that sounds it is well handled here both directly and symbolically. Snyder scribes an interesting father-daughter relationship.
Wytches takes the Stephen King alcoholic author/father trope and, by the end, subverts it in a way that makes this a great Father's Day read. We discussed this fantastic horror title on Grawlix Podcast #35.
"Introducing the first nine volumes of the greatest superhero comic in the universe, collected into one massive paperback edition!"
This isn't the only Robert Kirkman comic with a strong focus on a father-son relationship but THIS one is a consistent joy to read even when it does get heavy, which it does! Invincible, at its core, is a coming of age story. An epic, wild coming of age story.
Over the span of its 15+ year run Invincible follows Mark from the time he is a teen developing the superpowers he inherited from his dad through to dealing with being a father himself. There is so much more to this book than that, too. A huge cast of likeable, memorable characters, callbacks and setups that take years to payoff, truly shocking twists. Reading through this series for the first time you will NEVER guess where the story will take you next.
Other than the fact that Invincible is one of the best and perhaps most criminally under discussed modern superhero books it is a perfect fit for this list. The series hits hard on that moment when a person realizes their father, who seems like an invulnerable superhero (in this case literally), may not be so super.
I'm recommending the first compendium because you NEED to start at the beginning and once you get into it you will NEED to read it all. You can hear us discuss the first 13 issues on Grawlix Podcast #53.
"The first eight issues of the hit DC COMICS – THE NEW 52 series! Batman and Damian – the new Robin – are driven apart by the insidious Nobody!"
Peter J. Tomasi and Patrick Gleason know how to comic up a father-son super hero story! This is not the only entry on today's list from this creative team. There are a lot of good stories regarding Batman as a father figure to Robin, pretty much any Robin. In fact, a more recent Tom King Batman story put Bruce in a patriarch role to a table full of Robins… and a Batwing.
Tomasi and Gleason's New 52 run, however, presents a full, excellently plotted father-son relationship arc. Somehow the team was able to see the arc through despite some serious derailment of the editorial mandated variety. I mean, they literally killed off Robin in another book partway into this run! Yet Tomasi and Gleason were still able to utilize seeds planted early in the series for some wonderfully poignant emotional beats all throughout.
My favorite moments come later but I recommend starting with Volume 1 in order to catch all the subtle though impactful callbacks in those later issues. Despite a few misses here and there this is, in my opinion, a must read run and the best handling of the Bruce and Damian relationship.
"Buddy Baker has gone from 'super' man to family man – but is he strong enough to hold his family together when Maxine, his young daughter, starts to manifest her own dangerous powers? As these new abilities continue to terrify Buddy and his wife Ellen, things take a turn for the worse as Buddy and Maxine begin a journey into the heart of The Red. Don't miss the amazing series from writer Jeff Lemire (SWEET TOOTH) and artist Travel Foreman (The Immortal Iron Fist)!"
The New 52 run of Animal Man was one of the biggest surprises of DC's 2011 reboot. Animal Man wasn't even on my radar. I only came to the series because it's entire run is heavily entwined (pun intended) with Scott Snyder's Swamp Thing run. And you know what… it's BETTER.
At the beginning of the story Buddy is struggling with being a father and a husband, missing his past "glory days". As the series goes on, though, his priorities shift as he and his family face truly horrible struggles. 
This book presents the family dynamic between Buddy, his wife Ellen and their two children in a way that feels genuine. And I won't lie. Animal Man gets dark. Really dark. That is why it is on the list though. SPOILER It deals with an issue of parenthood that few comics do in any real (and LASTING) sense… the death of a child.
"The story of Vladek Spiegelman, a Jewish survivor of Hitler's Europe, and his son, a cartoonist coming to terms with his father's story. Maus is a haunting tale within a tale. Vladek's harrowing story of survival is woven into the author's account of his tortured relationship with his aging father. Against the backdrop of guilt brought by survival, they stage a normal life of small arguments……"
Maus. It doesn't get more real than this. This is a harrowing, incredible, tragic, true story uniquely presented by Art Spiegelman. You don't need me to tell you why this is worth reading, it won a damn Pulitzer.
I will say, though, that when I first picked this book up (which was for our discussion way back on Grawlix Podcast #3) I knew it was the story of a holocaust survivor. What I didn't know is that it is also an examination of the relationship between that survivor, Vladek, and his grown son, the creator of the book, towards the end of Vladek's life.
I tend to avoid depressing, bleak true stories even when those true stories are depicted using cartoon characters. You could say I like grit and realism in my escapism… until it gets too real. However, Maus is something I am SO glad I have read and if you haven't I highly recommend you do.
"A samurai epic of staggering proportions. The brilliant storytelling of series creator Kazuo Koike and the groundbreaking cinematic visuals of Goseki Kojima create a graphic-fiction masterpiece of beauty, fury, and thematic power."
Full disclosure, this is the one book on the list that I am recommending despite not having read much of… yet! While putting together this post all of the other books on the list leapt right into mind, either mine or Melanie's, who contributed to the selections. I did research other comics dealing with fatherhood, though. When I came across Lone Wolf and Cub my first thought was, "How have I not read that yet!?" I tracked down a copy that moment and started reading. Right away I knew it was going on the list.
Yes, I am going to recommend you read this manga series because I absolutely love the film series based on it. The manga is very highly regarded, though, and has been cited as influencing Frank Miller's Sin City and Ronin series as well as Max Allan Collins' Road to Perdition graphic novel among others.
But WHAT is is? Ogami Ittō, executioner for the Shogun turned disgraced assassin for hire, wonders the countryside on a path of vengeance following the murder of his wife. All the time with his 3-year-old son, Daigorō, in tow.
"After the events of DC Rebirth, the world is left without Superman! Luckily, there is another Man of Steel: the pre-Flashpoint Kal-El! However, can this new Superman protect the world while raising a super-son with his wife, Lois Lane? And should they help their boy use his new and rapidly increasing abilities, or hide them from the world?"
Peter J. Tomasi and Patrick Gleason return! The Batman & Robin creative team not only impressed me with their superhero father-son storytelling but apparently DC Comics as well. When DC hit the reboot… er, rebirth button again they shuffled Tomasi and Gleason over to put the similar treatment to Superman. See, this is the pre-Flashpoint/pre-New 52 familyman Supes.
More lighthearted than the other entries Son of Superman still hits emotional beats that resonate. While Batman and Robin showcases an uneasy, estranged father-son dynamic, Superman's relationship with son Jon is more what you could call traditional. Well, except that Superman is Superman. And young Jon begins developing super powers, as well. And there's a supervillain.
As the family is attempting to settle into their new home elements of Superman's past begins to encroach on them. The conflict of the arc has their very heritage literally trying to kill them (it IS a Superman comic, after all) but the most interesting stuff is the small things. 
For Jon this aspect of Clark's life initially casts a dark cloud of uncertainty about his father that hadn't been there before. Eventually the mystery and fear lifts as the family learns to deal with life's changes and challenges from its past. You can hear more of our thoughts on Grawlix Podcast #52.
"Lunarbaboon is a webcomic about a 30 something father and husband."
When thinking of comics that dealt with themes of fatherhood this was one of the first that jumped to mind. You can't do a post about fathers in comics and not include it.
The Lunarbaboon Patreon page says it "is a gag-a-day strip that focuses on many themes, but mostly is about parenting, other themes include depression, death, and Star Wars." That encapsulates it fairly well. Fun, cute AND poignant. Sometimes it delivers a positive social message. Sometimes it just punches you straight in the feels. Hard!
We discussed the webcomic briefly way back on Grawlix Podcast #6. I'd be lying if I said it hasn't brought watery sting to my eyes (my manly, rugged eyes) on occasion… tonight… while reading through a few installments trying to formulate these words. Just go read it, it'll hook you quickly. Besides, it's a webcomic so you can check it out for free.
We don't have any affiliate links for Lunarbaboon, we just love the strip. We highly recommend picking up the book (also not an affiliate link) or hitting up the Patreon page linked a couple paragraphs back. Chris is doing fantastic work and if you enjoy it show him some love.
---
Author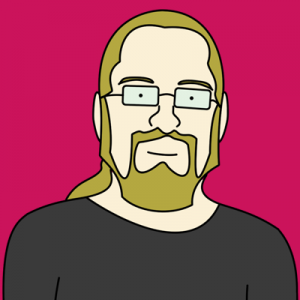 Randal Silvey is a podcast and music producer, freelance audio engineer and anything else that strikes his fancy.  Hear the sweet synthwave tunes he releases as SuperScience, hire him to edit your podcast at PodEdit.com and catch all of his doings at RandalSilvey.com.  What is he reading most of the time?  Anything Batman, anything Swamp Thing, mostly DC titles.