Oh yes, it is here. October! More importantly, Halloween! Sure, the actual holiday doesn't hit till the end of the month but Halloween is too cool to cram into just one day. That's why we celebrate all month long. Some years a certain podcaster stretches that out for a few months. This article has only just begun and already I digress? Point is, its time to watch some horror movies! Luckily, I've got a list here of the new horror series and movies on Netflix this month. Along with, of course, a few Halloween viewing suggestions that were already available.
Check out this post if you want to see ALL the new October offerings from the streaming giant.
New Horror on Netflix
The streaming service came out swinging this year with The Shining on the 1st. This is, in my opinion, the greatest horror movie of all time. It took my top spot of our Top 10 Horror Movies segment on The Grawlix Podcast #21 AND in my 10 Great Horror Movies For Halloween article. The atmosphere, the setting, the direction, the creepy Jack Nicholson… this movie drips dread from start to finish.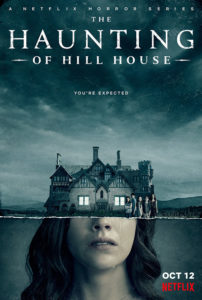 As for Netflix Originals Malevolent caught my eye with a fairly creepy looking trailer. Apostle also looks creepy and, well, chalked full of torture if that's your kind of thing. If you are a nerd like we are here at Grawlix Podcast you'll recognize the film's lead, Dan Stevens, as David from Legion. It's also an interesting shifting of gears for director Gareth Evans, who is most known for directing The Raid movies.
Two new Netflix series that I'm very interested in are The Haunting of Hill House and Chilling Adventures Of Sabrina.  A new adaptation of the original Haunting of Hill House novel in series form sounds like a great idea. Even better is the fact that Mike Flanagan created the series and is credited as director on all 10 episodes. Why is this guy not a household horror name yet? Everything I've seen from Mike Flanagan has stood out as some the best modern horror cinema. He even managed to pull a legit creepy prequel out of the dull, lazy slopheap that was Ouija.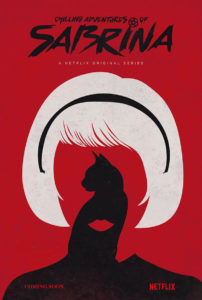 And finally, of course, Sabrina. I was never an Archie Comics reader or even a fan of the Melissa Joan Hart sitcom. While the aesthetic that the CW put on Archie with Riverdale intrigued me I simply could not get into it. However, Afterlife With Archie proved that even the very non-horror Archie could be mined for some great horror content. For real. We reviewed it back on our very first Halloween episode, The Grawlix Podcast #9.
Archie Comics gave Sabrina the same kind of dark, horror treatment with the Chilling Adventures Of Sabrina. Which makes sense given it already has a supernatural element built in. I'm very curious to see what exactly Netflix does with a dark, more horror themed Sabrina and while the trailer doesn't give us much to go on storywise, it does feature some interesting imagery.
October 1
The Shining
Blade
Blade 2
The Devil's Advocate
October 3
Truth or Dare
October 4
Creeped Out
The Haunting of Molly Hartley
October 5
Malevolent
October 12
Apostle
The Curious Creations Of Christine McConnell
The Haunting Of Hill House
October 19
Haunted
October 26
Castlevania: Season 2
Chilling Adventures Of Sabrina
More Horror Recommendations
I won't lie, sometimes the selection of non-Netflix produced (or bought) movies feels noticeably slim. Fortunately, what they do have makes up a solid collection of worthwhile horror. Flipping through their genre offerings I found myself pleasantly surprised. In fact, there are so many worth recommending that I'm going to have to trim it down to just the bare essentials. Otherwise this article will never end and frankly, neither you nor I want that.
The Witch. Or is it The VVitch? Melanie and I saw this in the theater when it was released and honestly I'm surprised it got a wide release. It's a great, unsettling, unique flick. It is not what I would have considered mainstream audience friendly but any time a quite, creepy movie like this can get mainstream attention I'm all for it. It builds tension right up till the end in a climax that does not disappoint. Since it's on Netflix now, I can actually turn the volume up and subtitles on in the hopes of understanding what these mushmouth 17th century colonists are saying this time around.
Oculus. Here's some of that Mike Flanagan magic I was talking about. Actually, several of Flanagan's films are on Netflix as he seems to be working exclusively on original content for them these days. For example, Hush and Gerald's Game. I mention Oculus, though, because it didn't get a lot of love when it was first released. This haunted house/haunted mirror movie stars Karen Gillan as well so yay, bonus Doctor Who connection.
Hellraiser. This iconic fright flick has SUCH sights to show you! Like a lot of long running horror franchises that kicked off in the 80s, the Hellraiser sequels took a nosedive in terms of quality pretty quick. The Clive Barker written and directed first installment, though, still stands out as truly original and thoroughly icky horror classic. Grawlix Cinematic Universe co-host Jasper and I spoke about Hellraiser at length on GCU #11: Se7en/Hellraiser Cinematic Universe. Jasper had some hilarious reactions to the movie's more out there moments. He had never seen it before!
It Follows. One of the greatest horror movies of the decade. Fight me! I could easily do a lengthy write-up on this. Fortunately, I don't have to because I already did! Take a look at this It Follows review I wrote back when I had only seen the movie twice. Yeah, I watch it at least once a year.
I passed by several good movies while putting together this short list of recommendations. Murder Party for example. I'm so glad that little known horror comedy is finally streaming! However, this list must end eventually so I'll leave it at that. Besides, I'll be discussing that movie much more later this month.
Listen, just pick a horror movie and watch it. It's good for your health. Pretty sure I heard that somewhere. Happy Halloween!
---
Author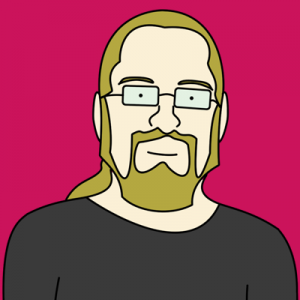 Randal Silvey is a podcast and music producer, freelance audio engineer and anything else that strikes his fancy.  Hear the sweet synthwave tunes he releases as SuperScience, hire him to edit your podcast at PodEdit.com and catch all of his doings at RandalSilvey.com.  What is he reading most of the time?  Anything Batman, anything Swamp Thing, mostly DC titles.