Doctor Who: Dark Eyes 4 (Big Finish Audio)
Reviewed By
Jesse Kiefer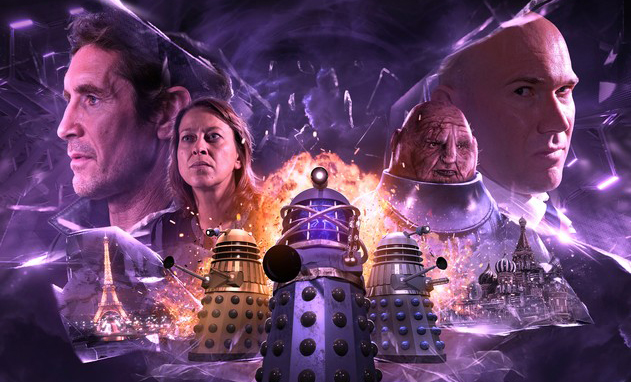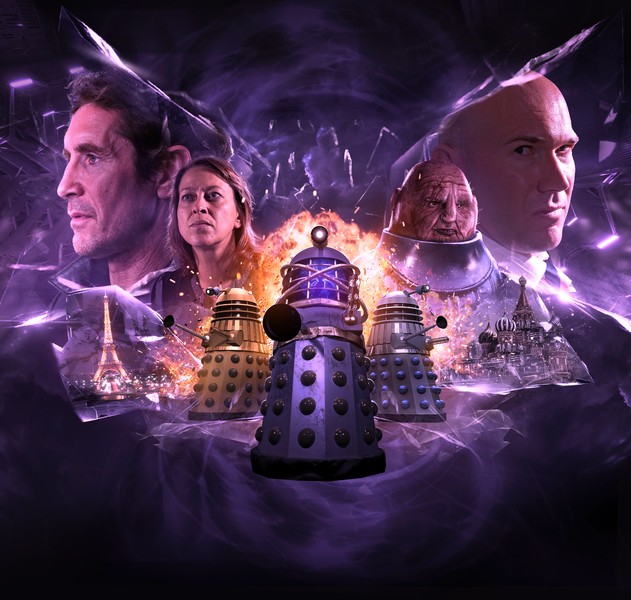 Written By: John Dorney, Matt Fitton
Director:
Ken Bentley
Sound Design:
Howard Carter
Music:
Howard Carter
Cover Art:
Tom Webster
Number of Discs:
5
Duration:
300′ approx.
Available on BigFinish.com
Listen to the trailer.
Your browser does not support the audio element.
"Right, well… they're running THAT way so… The Daleks must be THIS way!"
This month saw the finale to a series of Eighth Doctor Box Sets which started with the Award winning Dark Eyes first released in 2012.
It's hard to review a box set like this because although I want to review it on its own merits Dark Eyes 4 is four stories (one per CD) that are conjoined episodically, not only that but this box set has also been preceded by 3 previous Box Sets (each box set with four of their own equally stunning stories)!
This review will no doubt suffer from (what I'm terming) Return of the King syndrome (remember when Return of the King won all those Oscars basically for the whole of the Lord of the Rings Trilogy? That's what I'm talking about…) I can't review this set without taking into account the predecessors.
These box sets have for the last 2.5 years become the primary range for 8th Doctor Big Finish Stories following up the tragic ending to the Eighth Doctor Adventures Range. Even before we got to see Paul McGann make his on screen return in "The Night of the Doctor" this range was setting the stage for a different look and a decidedly modern approach to the 8th Doctor. Trading in his frock coat for a leather Jacket, trading his curls for a much more natural haircut (less "bad wig" than your average episode of Arrow).
So Dark Eyes 4 takes this span of stories, now totaling 16 in all, and wraps them up in a satisfying way but with room to grow for the future.
This batch sees the return of the Daleks, the Dalek Time Controller, The Master, The Sontarans (wait… Sontarans?! WHAT?!) The Eminence, and more!
I can't get into this too deeply without spilling the beans, this set isn't a stand alone… hence the number in the title. I can't say it's my favorite of all four but that has more to do with not wanting this series to ever end (EVER!) than with any cases of a diminished quality (cuz the series rocks people!). They really did a nice job with each story keeping the listener's interest mixing up the characters with scene breaks that flow seamlessly from one to the next. Dark Eyes has been from Beginning to end an absolutely beautiful and carefully crafted standard of stories and this 4th set did not disappoint or regress from what came before.
If you have been curious about Big Finish or specifically the Eighth Doctor and are a modern series listener I'd wager that Dark Eyes will not disappoint you.
Some of my favorite parts specifically in Dark Eyes 4:
The way they worked in the Sontarans. I honestly thought "oh boy this is where they jump the shark" Nope, without giving away why they are there they are worked into the tale in a very smart and believable way.
The Master! Okay I'm a big fan of The Master anyhow but Alex MacQueen as this intermediate Master (between Eric Roberts and Derek Jacoby/John Simms) has really shined as a distinctly Big Finish Master! I love that Big Finish is creating "new" in this universe of classic stories. A regenerated Rani? YEP! A regenerated Meddling Monk? Yep! A Regeneration for Romana? YEP! and even a Big Finish regeneration of the Master! Really enjoy him.
Molly O' Sullivan I was surprised that they were able to work her in to this final set, it became obvious that working around Ruth Bradely's schedule was getting harder and harder to manage but Molly O' Sullivan as the Doctor's first full Irish companion was a delight.
The Variety, I like how they were still able to wrap in some one offs into this huge overarching story line and still tie them in, I really think that this series starts to feel like what the BBC is doing with the Modern stories and I started to wonder if Dark Eyes wasn't part of the reason Big Finish recently received the licensed to make Modern Big Finish UNIT stories. I can't imagine that Dark Eyes wasn't at least a little convincing.
In Summary: I give the Overall series 5/5 stars. Were there highs and lows in 16 stories worth of a series? Sure, but at no point did I think "gee this series really has not been worth the money…" nope, it's worth it! If you are interested in a classic doctor whose stories feel distinctly modern (while being set all over time and space) THIS series is worth your time from beginning to end.