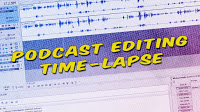 Ever wonder what goes into the editing process of a typical Grawlix Podcast episode? Probably not but we've got a video of the entire editing session of episode #19 here to fire into your eye sockets at 4000% speed! With International Podcast Day coming up on September 30th it seemed like a good time to take a peek behind the curtain on the podcasting process.
Honestly, 4000% playback is a little too quick to properly see what is happening but we didn't think anyone would want to watch the entire 3 hour and 45 minute screen capture in real time. If there is interest in more editing or podcast production videos perhaps we will slow things down and upload a proper breakdown of the process.
Till then, here is a glimpse of the time that goes into JUST the editing of one episode of the show. As Randy says in the video, if nothing else, enjoy the killer "Hyper Extended" version of The Grawlix Podcast Theme song.