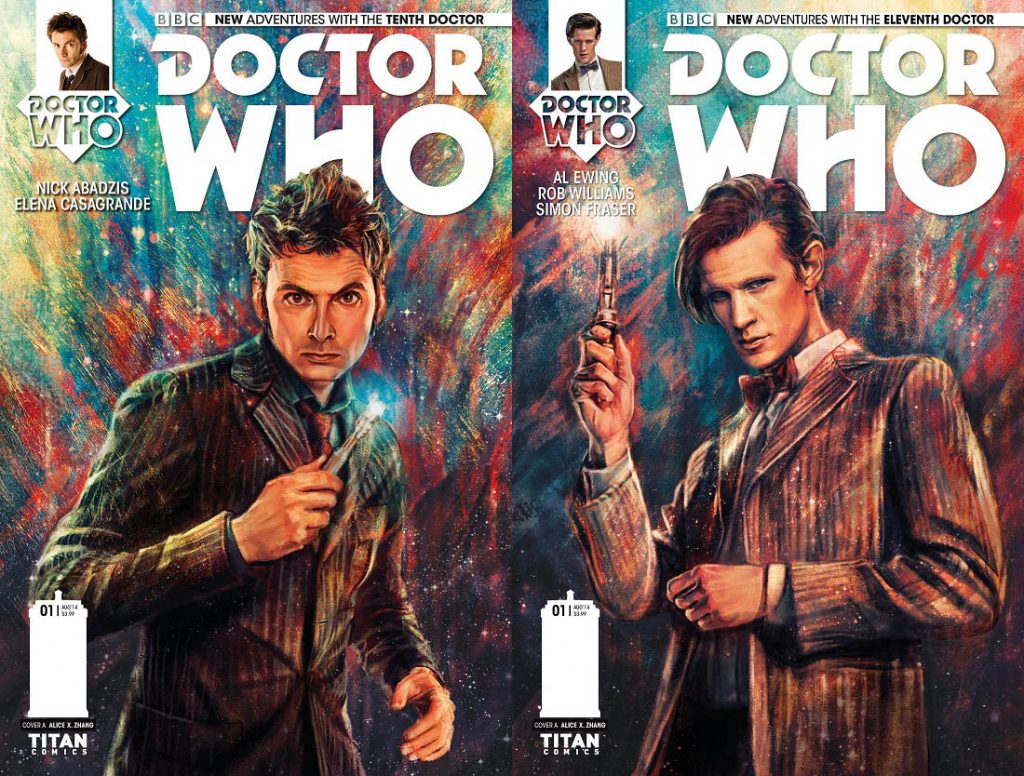 Titan Comics revealed the covers to not one but TWO new Doctor Who comic book titles at the ComicsPro Retailer Summit in Atlanta today! Being huge Doctor Who AND comic book fans here we have been waiting on news of the Doctor's (or Doctors') return to the shelves since IDW turned over the licensing to the franchise at the end of 2013. Looks like we will be treated to two new ongoing titles, one featuring the 10th Doctor and the other following the 11th.
"Doctor Who: The Tenth Doctor" and "Doctor Who: The Eleventh Doctor" hit comic stores on July 23rd, 2014. Here is what the solicits have to say:
DOCTOR WHO: THE TENTH DOCTOR #1
THE TENTH DOCTOR IS BACK, IN AN ALL-NEW ONGOING SERIES! NEW COMPANION! NEW HORIZONS! UNFORGETTABLE NEW FOES! ALLONS-Y!
Eisner Award-winning writer Nick Abadzis (Laika) and fan-favorite artist Elena Casagrande (Angel, Suicide Risk, Doctor Who, Star Trek) take control of the TARDIS for their first five-issue arc with the Tenth Doctor! And don't miss the second arc, by fellow series architect Robbie Morrison (Drowntown, Nikolai Dante, The Authority)!
DOCTOR WHO: THE ELEVENTH DOCTOR #1
THE ELEVENTH DOCTOR RETURNS IN AN ALL-NEW ONGOING SERIES, WITH A TIME-TWISTING LEAP INTO THE UNKNOWN! GERONIMO!
Series architects Al Ewing (Loki: Agent of Asgard, Mighty Avengers, Trifecta) and Rob Williams (Revolutionary War, Ordinary, Miss Fury, The Royals: Masters of War, Trifecta) kick off a whirlwind adventure through eternity for the Eleventh Doctor, with artist Simon Fraser (Nikolai Dante, Grindhouse, Doctor Who)!