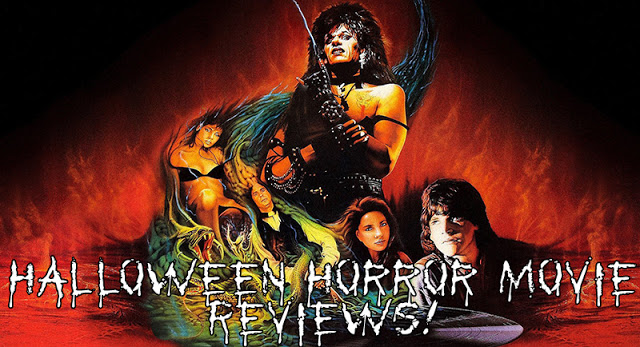 With Halloween slowly creeping up on us like some kind of unstoppable masked maniac we have decided the best way to avoid a jump scare… is to jump first. It is no secret we here at The Grawlix Podcast are fans of all things horror. Whether it be discussing large chunks of The Walking Dead in our reoccurring Dead Air segments, raving about recent throw-back horror flicks, or even releasing horror inspired vampire music… any time of the year is the right time for horror. However, like any rabid bar-going 20-something on Saint Patrick's day, we're just looking for a reason to indulge ourselves and what better excuse for a horror movie bender than our holiday of choice, Halloween?
Here is week 1 (more like 2 technically but we'll just say it was a really long week for sake of future post title continuity) of the 2 month long horrorfest leading up to October 31st.  Check out the massive week 2 reviews here.
Demons (1985)
Watched September 6, 2015.
Watched this for the third time! This ridiculous 1980s Italian produced horror flick sees very Evil Dead-like demons unleashed upon an unsuspecting movie theater audience. Each person the demons kill (infect/posses) becomes another demon, zombie style. The horror movie screening events spilling out into the audience is a lot of fun with the movie theater providing the main setting for film.
It is a great mix of awkward performances and voice overdubs, sequences that are not afraid to have fun (that motorbike scene, right!?), gross out gore and make-up fx (thankfully no maggots though, those Italian horror guys LOVED them some maggots), and general euro-trash feel. The film moves along at a perfectly brisk pace and ends, for me, on a high note that made me like the movie as a whole much more. This actually went up a full star after a 2nd viewing for a total of 4 glowing-eyed demons out of 5.
Good Halloween watch? Sure! It may not be Halloween themed as such but it carries that joyously depraved love of horror that makes for a great All Hallow's Eve mood-setter. It is a horror movie set at the screening of a horror movie… come on!
What We Do in the Shadows (2014)
Watched September 7, 2015.
This was a first time watch for me and I loved it! Not only is this a good comedy but this is the best comedy I've seen in a LONG time. And yes, this is a straight up comedy. But wait? Isn't this a horror list? Well, What We Do in the Shadows is a "mockumentary" about the daily (nightly?) lives of a group of vampire roommates. Each character represents a traditional vampire archetype. Much of the humor comes from how they interact with each other and with the modern world, and how certain horror monster mythos are integrated into the "real world" of this film. Mix dry humor with a bit of silliness and you've got a movie that I simply didn't want to end. Gave this a solid 5 blood sucking roommates out of 5.
Good Halloween watch? Yeah! When you need a break from gore, jump scares, and tension throw in What We Do in the Shadows. It is not explicitly Halloween themed like the next entry in this list but it features creatures of the night and even an "Unholy Masquerade" so it makes perfect viewing for when you're carving pumpkins or handing out candy.
Trick or Treat (1986)
Watched September 7, 2015.
I had heard of this 80s rock 'n rolling Halloween flick for some time now but finally got around to a first time watch. Not to be confused with the 2007 anthology horror film 'Trick 'R Treat' (which will find it's way into this year's viewing). This movie follows a bullied teenage metal-head who's just found out his heavy metal superstar icon has died. Fortunately he acquires the only copy of the rocker's final album from a local radio jockey (played by Gene Simmons). This flick takes the "evil messages played backwards on a metal record" idea to extremes and when Sammi Curr, the deceased demonic rocker, starts talking back to our young protagonist things get get out of control.
I was unsure of what this would be going in but it is a well made, quick moving, fun horror flick. There are a few bouts of over-the-top ridiculousness but I was actually surprised how much this movie keeps that stuff reigned in. Two mind boggling supernatural moments captured my imagination and added to the fun more than taking me out of it. The film has a few worthwhile WTF moments, a couple of legitimately creepy sequences in an otherwise out-there but fun premise, and drives to a satisfying climax. I give 'Trick or Treat' 3 Ozzy Osbourne as a TV priest cameos out of 5.
Good Halloween watch? It is called "Trick or Treat"! I wouldn't say it is thoroughly obsessed with the seasonal setting but the film's main set piece sequence takes place at a Halloween costume dance. 3 out of 5 stars is by no means a bad rating. I enjoyed it and while I don't know if I would make a point to revisit it every Halloween I am surprised that his movie doesn't have more a following. It is a fairly obscure title that deserves more attention. A fun watch and worth at least one Halloween viewing!
All the Halloween Horror movie reviews!