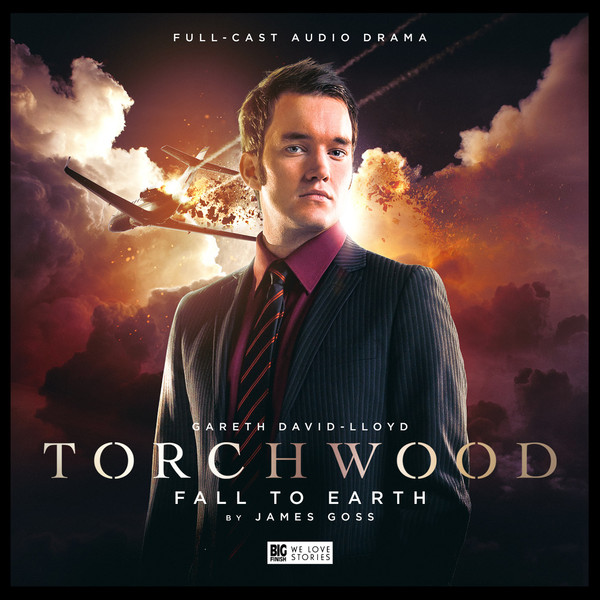 Torchwood: Fall To Earth 1.2
Written By: James Goss
Director: Scott Handcock
Sound Design: Neil Gardner
Music: Blair Mowat
Cover Art: Lee Binding
Number of Discs: 1
Duration: 60′ approx.
"Good isn't it? Perhaps you're starting to believe me… Your computer is now one of the most powerful information indexing machines on the planet."
This month via Big Finish we were treated to the return of a fan favorite character in a new story featuring the wonderfully pithy Ianto Jones!
The solicit from Big Finish:
"The SkyPuncher is the first private spaceflight. But Ephraim Salt's visionary project has gone horribly wrong – the ship is falling out of the sky and there seems no way to stop it.

Ianto Jones thought the flight would be sabotaged. The only problem is… he's on board."
I mentioned last month that the format of these stories is a little different than the full blown dramas I review from the Doctor Who Main Range. The First Torchwood series (yes they have already announced the second series) stories are one disc each and the story will be about 60 mins per episode. That makes for slightly less characters to digest in each story and makes for a much tighter and lighter storytelling experience. I have to admit when first noticing this I was somewhat disappointed. I'd rather pay more and get more, but as I found out last month the shorter run time does NOT impede the story at all. This month's story is proof positive that it isn't a bad thing to get lighter and tighter.
Seeing that Ianto Jones would be returning it's only natural that my speculations and expectations began to ramp up. I kept wondering how in the world would they be able to bring Ianto back in a satisfying way? His sacrifice was heartbreaking. It's one big piece to the brilliance of Torchwood's third regular series. So, they did the best possible thing… they did what Big Finish does best and they gave us a new story set before Ianto was killed. In fact they gave us a story set sometime in the first series, by my guess, as there are references to events in that series being fairly recent.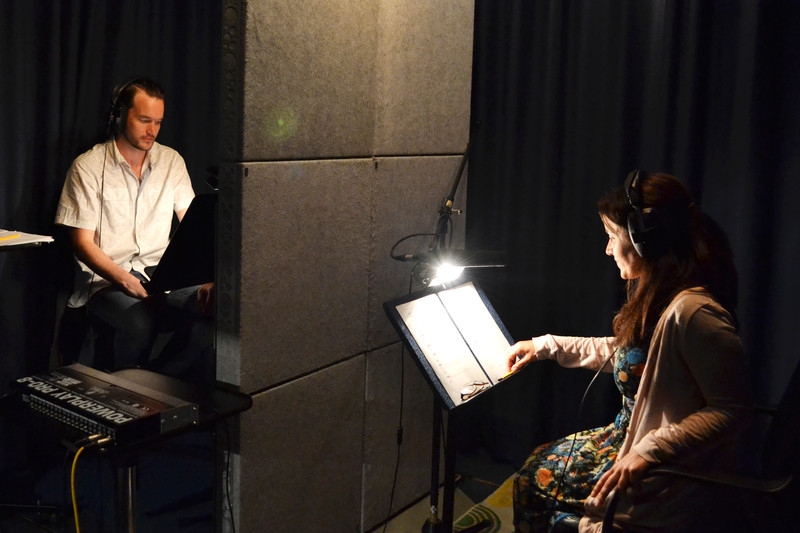 Gareth and Lisa recording 'Fall to Earth' via BigFinish.com
This story does harken back slightly to the first episode as this will clearly relate somehow to what Captain Jack is investigating BUT Ianto has more pressing matters at the moment… namely not dying in a crashing spaceship. As the sole survivor on an out of control ship he is contacted by a telemarketer and the story unfolds as the two of them try to work out how to save Ianto's life in the perfectly unfortunate awkward fashion that Ianto tends to fumble forward.
I expected to like this story but I'll admit that I did not expect to like this story as much as the first… in fact… I think I like it more. The characters were once again solid, not only Gareth David-Lloyd (returning flawlessly as Ianto Jones), but Lisa Zahra stars as Zeynep an outbound telemarketer for an insurance sales division who just just happens to be unlucky enough to call Ianto in the middle of freefall. The interactions and chemistry between Lisa and Gareth were simply magical I found myself wanting to hear more of their conversations. Big Finish could do a Ianto and Zeynep Coffee House Conversations series and I think I'd have to buy it.
This episode was a beat the clock murder mystery on a crashing spaceship. Why was Ianto there? Why is he the only one conscious? Why can't he get this ship to stop crashing? It all unfolds slowly and wonderfully in a very satisfying tale. I couldn't have imagined it but this follow up was as good or better than the first, if you love Ianto Jones you will love this, if you love Ianto IN Torchwood you'll love this, and really you wouldn't even need any context at all or even be a fan of the series (not even the previous episode)… to love this. So without reservation Torchwood gets ANOTHER 5 out of 5 stars rating out of me.
Have you been waiting for more Ianto Jones? How did they do? Let me know in the comments below or by shooting us a message to letters(at)grawlixpodcast.com.

5 Stars