Ray Bradbury's The Martian Chronicles
Written By: Richard Kurti and Bev Doyle (strory by Ray Bradbury)
Director: Andrew Mark Sewell
Music: Imran Ahmad
Sound Design: Alistair Lock
Number of Discs: 1
Duration: 60′ approx.
A B7 Production for BBC Radio 4
Ah! Ray Bradbury! A brilliant tale done brilliantly! I don't always buy up the audio book releases from Big Finish but when I do? It's always Ray Bradbury.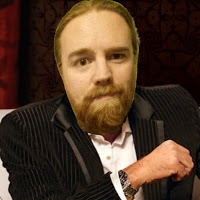 The solicit from Big Finish:
"Derek Jacobi and Hayley Atwell lead an all-star cast in The Martian Chronicles, a thrilling new dramatisation, reimagining Ray Bradbury's timeless fable of doomed Martian colonisation.

When the first expedition to Mars mysteriously disappears, Earth sends a second to find out what happened. But the real mission is classified. And only Captain Wilder knows the truth…

Spender, an anthropologist on Wilder's crew, attempts to prevent the colonisation that she believes will eradicate the last of an ancient people living on Mars. But to what lengths will she go?
As the honourable but duty-bound Captain Wilder tracks the now rogue Spender into the Martian mountains, the future of this ancient planet is at stake.

Meanwhile, Earth itself teeters on the brink of its own global catastrophe as the very survival of humanity hangs in the balance.

Also includes a special behind-the-scenes mini-documentary with interviews from the stars, plus six special teasers examining the Martian culture!"
Okay Hayley Atwell and Dereck Jacobi…. Agent Carter and the Master? Yeah I'm on board.
It's been a long while since I've heard an adaptation of Ray Bradbury but there's just something about his work that lends so well to audio. I love how his work always uses alien life and the idea of traveling to distant worlds but really the story is always about humans and how we react, often times foolishly to the things we do and do not understand, often times at our own peril.
Ray Bradbury's tales are often cautionary and always ring poignant to me. I cannot recommend his work enough and if you started with this one you would be in for a lovely introduction with battle tested actors that you can definitely trust.
The castings were wonderful (even with some gender swaps I don't think anyone could really argue with the choices nor with the end result). The sound design and music was top notch and it never felt wooden or narrated even when it was actually narration!
It's no leap of reason to give this disc a 5 out of 5 Stars. My only complaints would be that I'd like to hear more behind the scene extras. Yeah… my only complaint is that I want more! #firstworldproblems #goodproblemtohave
The last adaptation I listened to was the Big Finish retelling of Mary Shelley's Frankenstein and that was also incredible. What classic tales would you like to hear Big Finish tackle next? Let me know in the comments below or by shooting us a message to letters(at)grawlixpodcast.com.

5 Stars