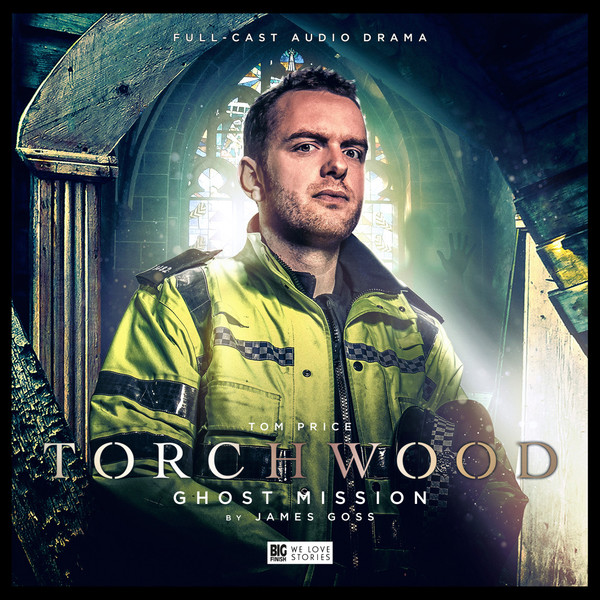 Torchwood: Ghost Mission 2.3
Written By: James Goss
Director: Scott Handcock
Music: Blair Mowat
Cover Art: Lee Binding
Number of Discs: 1
Duration: 60′ approx.
"Rats, vats, and a monster… what a blast! Good luck with that!"
Sgt. Andy gets his shot! This month's story features a Torchwood mainstay in Tom Price's Andy Davidson and he's being called up to the Torchwood big leagues… or is he?The Big Finish Solicit for this adventure reads:
"Sergeant Andy Davidson has always wanted to join Torchwood. And now he finally gets his chance.

Under the strict observation of his Torchwood Assessor, Andy sets out to prove he's got what it takes. When a chemical spill turns out to have serious consequences, when monsters roam the Bay, and when an ancient entity awakes, Andy decides he could do with a helping hand. The problem is his Torchwood Assessor doesn't have any hands. Norton Folgate is a ghost."
James Goss delivers another bang up script for this Torchwood series which continues to show it has plenty of tricks up its sleeve.
It was great finally getting a proper story about Andy but maybe the biggest surprise about this story is just how brilliant the double act was between Andy and his "assessor" Norton Folgate the spectral Torchwood agent from the 50's. I mean I could see this duo going on adventures on the regular like Jago and Litefoot and it would be super fun and compelling to listen to.
We got to see a lot more of Andy and honestly it was refreshing. Obviously he's out of his element but like Gwen Cooper he had a little bit of background and experience dealing with crisis in his line of work and took to it rather quickly and did a pretty great job of piecing things together in a way that we as the audience might not expect.
I think that a newcomer might not totally get all the nuanced references in this story… I don't think they would have to get the references to enjoy this tale but they'd probably pick up on the fact that they were probably missing some things.
Without giving it all away this story leaves us with a few questions but it doesn't feel confusing instead it just makes us want more and I think that's what any good serial story should do,
I'm giving this story 4 out of 5 stars it did a nice job of giving us an old character and giving us new story and insight we never knew we needed or wanted.
Were you excited by a Sgt Andy story? Would you listen to more or do you think this kind of character vignette is best left as a stand alone? You can let me know in the comments below or by shooting me a tweet! @jessekiefer I want to hear from YOU!

4 Stars