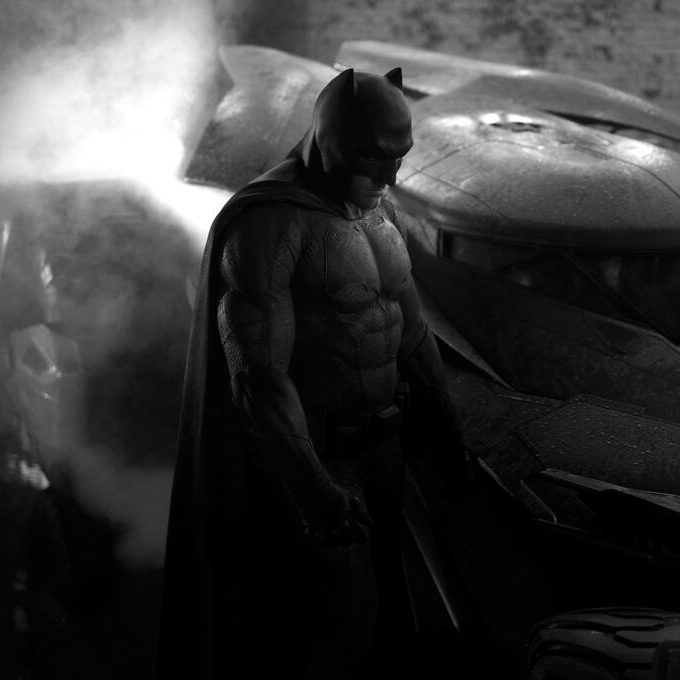 Director Zack Snyder revealed the new Batman costume from the upcoming 'Man of Steel' sequel on Twitter today. The black and white picture shows Ben Affleck in a new short-eared design Batman costume and a very Bat-Tumbler looking Batmobile.
I shot this with my @Leica_Camera M Monochrom. #Batman #Batmobile #Gotham http://t.co/WPHKLxgBLM pic.twitter.com/p5DEf6fLzJ
— ZackSnyder (@ZackSnyder) May 13, 2014
A closer look reveals an interesting fabric pattern design…
Closer look at Ben Affleck as #Batman! pic.twitter.com/9nxrFdFP9L
— AMC Theatres (@AMCTheatres) May 13, 2014
Naturally it took no time at all for fans to take to "colorizing" the photo. Here is a notable take on a more colorful classic two-tone color scheme by designer ToyOtter.
WOW Awesome photoshop coloring by ToyOtter. What do you think of the New Batman Costume now? pic.twitter.com/n1eXDYODy6
— DC Comics Talk (@DCComicsTalk) May 13, 2014