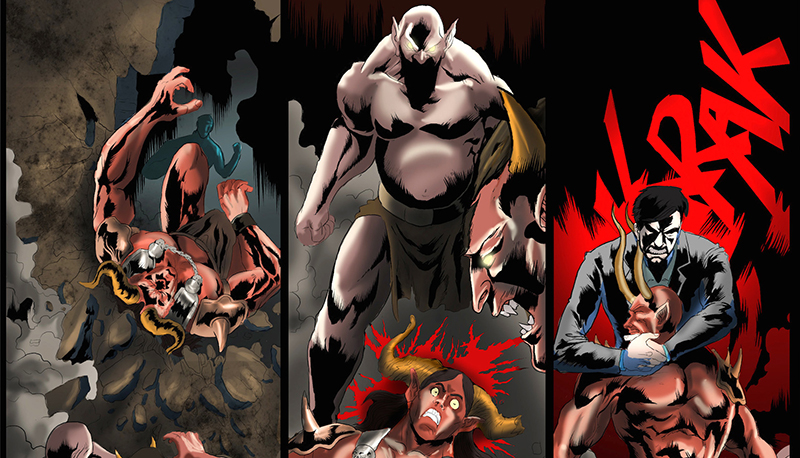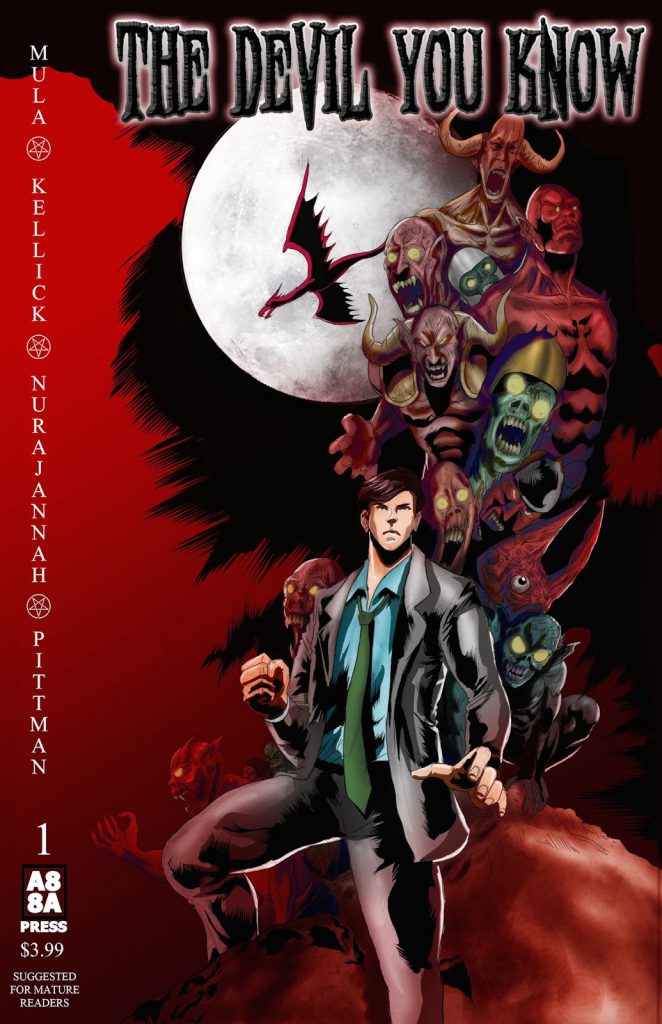 The Devil You Know #1
Writer/Creator: Frank Mula

Pencils: Kellik

Inks: Nunun Nujannah

Colors/Letters: Victoria Pittman
Editor: Sal Brucculeri
Cover Price: $1.99 (Digital), $3.99 (Physical)
What better way to introduce our brand new Indie Comics Spotlight than with a brand new indie title from a brand new indie publisher? The Devil You Know is a dark-fantasy/horror series created by Frank Mula with art by Kellik and Nunun Nujannah and colors/letters by Victoria Pittman. Poised to kick @$% right through Hell and into your hands with issue #1 on November 19th.
In The Devil You Know #1 we are introduced to Greydon Cross, a man whose lifetime deeds set him perfectly in the center of good and evil, figuratively and literally. In an interesting twist on classic good and evil conventions, Cross makes a deal with God and is given the opportunity and power to reap violent, bloody vengeance upon the demons of Hell. And that is what he does.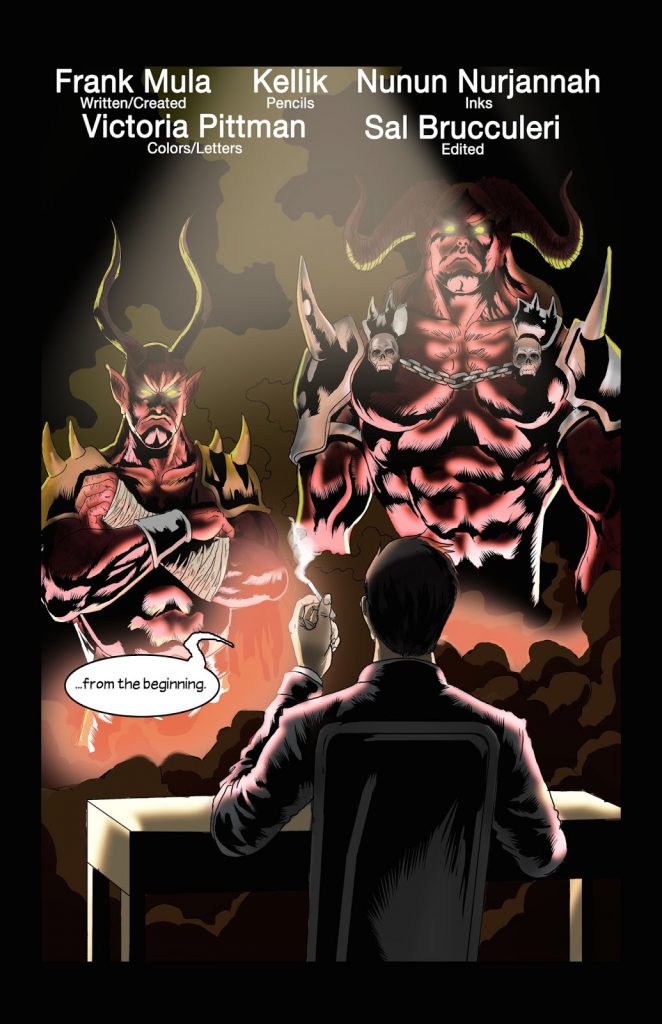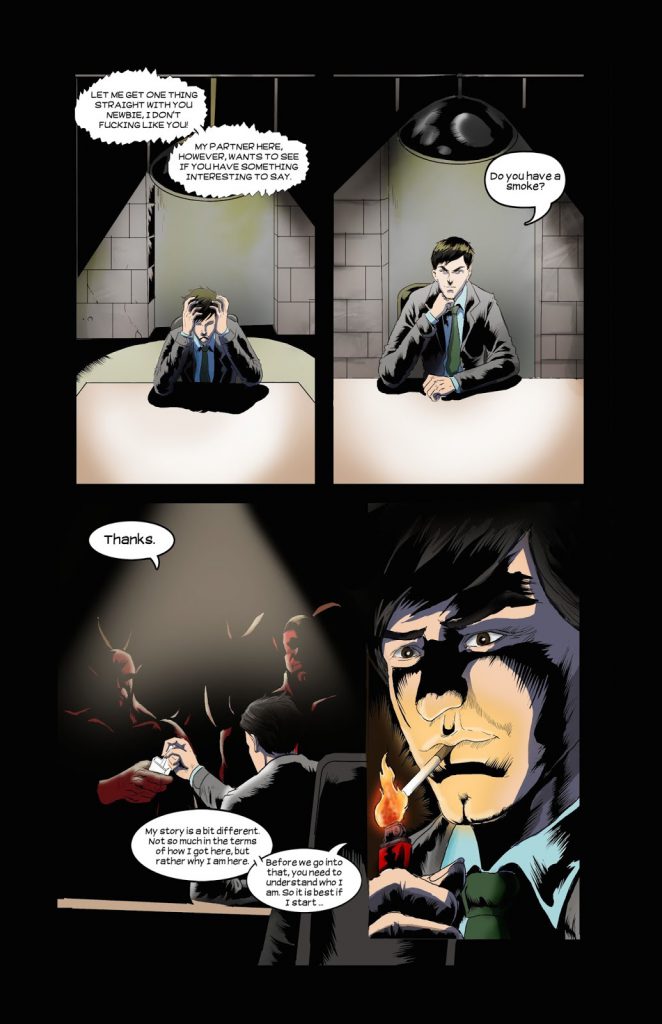 This first issue gives you a taste of the action-filled revenge adventure that lays ahead. It also hints at a potentially unique take on themes of morality and the classical rolls of God and Satan. The book feels reminiscent of old pulp horror comics with it's straightforward dialog, revenge and morality motif, and the art complete with topless women and red skinned demons.
Mula presents a clear origin of an unlikely looking warrior while leaving an unanswered question or two to build some mystery. As mentioned, the dialog is straightforward but at times a little too straightforward possibly as a result of establishing the adventure and tone that we can expect from the series in this one issue. Perhaps Mula will have more room to breath as the series continues and we can get a bit more insight into the central character's personality.
The character design is interesting with the lead character clad in suit and tie even while snapping demon necks in Hell and God looks more like a wondering traveler sporting a brown trench coat and walking stick as oppose to the traditional white robes. Kellik clearly takes pleasure penciling in the small details of the various demons. The action and panel layouts are clear and easy to follow. While the characters are detailed and nicely proportioned they look a little flat from time to time. Nujannah's inks add some nice depth to the art though.
In the darker scenes the shadow work of Kellik and Nujannah's art looks very dynamic and in lighter scenes Nujannah preserves Kellik's details with thin ink lines that gives those scenes a cool look. Pittman's colors work best when working with a bold and stylized color palette though some of the color shading has a very digital look that some readers may not be fond off. There are a few panels displaying the art's weaknesses while others are strong and dynamic but overall the look and style of the book is very cohesive.
All in all, The Devil You Know #1 sets up what could be a fun, pulpy adventure series with a strong dark-fantasy/horror theme and an interesting take on the age-old concept of good verses evil. Revenge, action, violence, demons… this certainly isn't a book for the kiddies… and it relishes in that fact.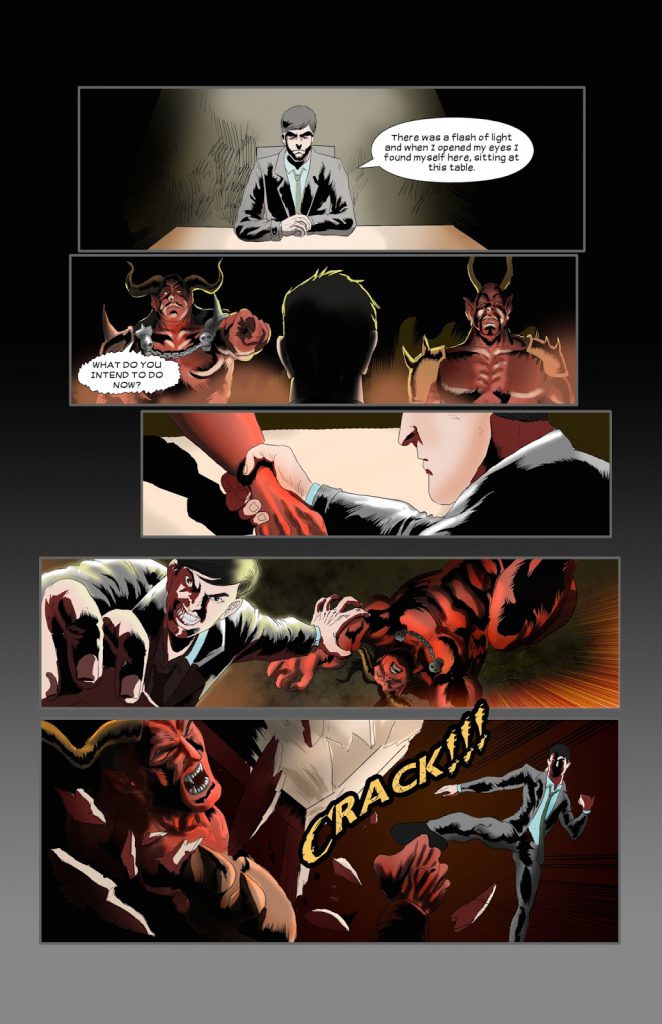 For more details from the creators and where you can find this book below you can find the official press release from AA88 Press.
PRESS RELEASE:
AA88 Press proudly announces the publication of THE DEVIL YOU KNOW, Frank Mula's dark-fantasy adventure as an ongoing comic series for mature audiences.

Writer/Creator Frank Mula tells the tale of Greydon Cross, an ordinary man who comes home one day to find his family murdered at the hands of the Devil. Driven towards vengeance, Greydon cuts a deal with Heaven. In exchange for powers needed to exact his revenge, Greydon will travel to Hell and assassinate Satan. However, there is one catch, if he succeeds in destroying Satan, he must take up the mantle himself. The story is brought to life by the team of Kellik Iskandar (pencils) Nunun Nurjannah (inks) Victoria Pittman (colors and letters) and Sal Brucculeri (edits).

"The Devil You Know is a fun action adventure story, with an underlying message of humanities inner darkness," says creator Frank Mula. "I wanted to explore the concept that within us all is a person capable of death and destruction on a truly terrifying scale, and that person is held in check only by conscious decisions to do good. But what happens when you take away the little part of your brain that tells you not to do something wrong? Where would someone who is already in Hell, draw the line between good and evil?"

"Themes like trust, war, sex, and friendship, all take on a different meaning without a moral compass to guide us. To me the series boils down to one simple question: what does it take for a good man to be king in a world of bad people?"

While the series explores the inner emotions of humanity, it does so in a dressing of what could best be described as a middle-earth type of world with familiar biblical tropes. The series moves fast, at an almost video game-like pace, as Greydon battles his way through an endless horde of demons.

"It is going to be a wild ride and I hope that people pick up issue one and check out what we are doing, and stick with us," says Frank Mula. "The team has really gotten into this world and these characters and it is reflected in each subsequent issue we do. The series only gets better with every page and I think that is something readers can appreciate it. The best is yet to come."

THE DEVIL YOU KNOW is currently available in print at aa88press.com/store for $3.99 plus shipping and handling as well as ComiXology, starting November 19th, 2014 for the price of $1.99.

You can follow AA88Press at aa88press.com, on twitter @aa88press and on tumblr at http://aa88press.tumblr.com.